THE 2020 KIA TELLURIDE IS REALLY BIG AND REALLY GOOD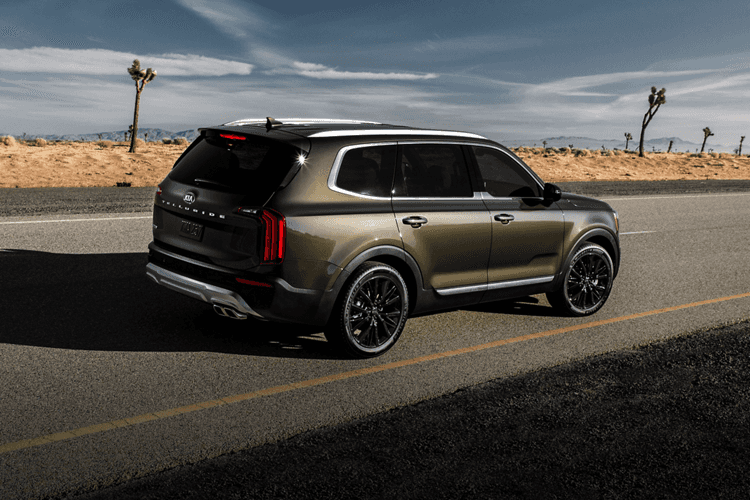 The 2020 Kia Telluride is a first for the automaker—a mid-size crossover truly big and beefy enough to compete with the Volkswagen Atlas, Toyota Highlander, Mazda CX-9, and other SUVs in its class. It's highly competent, comfortable, and, dare I say, even fun.
The days when Kias were tiny econoboxes with, shall we say, questionable build quality are a distant memory. Kias of the '10s have been among the most reliable cars on offer today, a winning on combination of value and quality, and solid proof that the company learned from its early mistakes.
The Telluride offers a different proposition altogether. It seems perfectly timed to an American market that is buying big crossovers in droves, eschewing smaller cars that made Kia famous. The Telluride is on sale now, and has been for about a month; Kia says it has sold more than 3,000 of these in that time, an impressive sales number that puts it in the conversation with an SUV like the Atlas and surpasses the CX-9.
Expect to see a lot of these on the roads in the coming years, in other words.

WHAT IS IT?
It's a big, mid-size crossover, not a full-size crossover, mind you, because Kia says it's not intended to compete with SUVs like the Ford Expedition or Chevy Suburban. It's certainly big, though, one must admit, and Kia says that its boxy styling is very much intentional, and allows for more room in the cabin, an advantage over unnamed other brands who want theirs to be more rounded out. (I'm assuming they're referring to something like the Buick Enclave.)
It's 197 inches long, 69 inches tall and has a curb weight around 4,110 pounds in its least-loaded trim. Equipped all the way up and with optional all-wheel drive, it comes in around 4,500 pounds.
Of course Kia has been selling a three-row crossover for a while—the Sorento. However, with a length of only 189 inches, it's a bit smaller than the usual benchmarks like the Toyota Highlander and Honda Pilot and is therefore a bit tight for families. The Telluride aims squarely at folks looking to avoid the minivan with a bigger entry that stacks up better against the larger, newer or updated offerings such as the Ford Explorer and Subaru Ascent.
It's powered by a 3.8-liter V6, offering 291 horsepower and 262 lb-ft of torque, which might seem a little low for a car in that weight class, but even in the optioned-out SX model Kia gave me to drive, that was more than enough for passing, provided you got a head of steam first.
All that power goes through an eight-speed automatic transmission that puts in work so seamlessly you barely notice it, and comes in front-wheel drive and all-wheel drive variants. (You should probably pay a little extra for the all-wheel drive, though a bit more on that later.)


SPECS THAT MATTER
Let's start with price: The Telluride starts at $31,690, which is sort of incredible, given that even its base package gets a whole host of features that you would find on much more expensive SUVs, like forward collision warnings, lane departure warnings, lane keeping assist, and adaptive cruise control with stop and go, for when you're in traffic.
Also, about the length: it's shorter than the CX-9 and also a hair shorter than the VW Atlas. It can tow up to 5,000 pounds. You can also get 20-inch wheels on the Telluride, but you're probably better off sticking with the 18-inch wheels, unless you love paying an even huger sum of money when the initial set of Michelins wears out.


WHAT'S GREAT
The drive modes—Smart, Eco, Sport, Comfort, and Snow—all worked as advertised, and you could feel a genuine change in drive dynamics between them, especially going from Sport to Snow. That latter mode pushes 80 percent of power to the front-wheels to help with traction, while gradually rolling back that percentage to 50-50 as the vehicle stabilizes.
On a mud course Kia set us up with, it didn't work wonders, but it did noticeably help stabilize things in a situation—cold, wet clay—where any car would've had a hard time finding grip.
On the actual road, the Telluride is a rolling couch. In comfort mode especially, you can feel the road and (some) bumps, but the outside world mainly exists as an illusion, because inside the Telluride you're moving along at your own gravity.
Sport mode changes this a little bit, but not by much and the whole package is well-designed for comfort above all else. The Telluride has handles attached to the center console for the driver and the front-seat passenger, but these are cosmetic, because the Telluride would never deign to make you uncomfortable, or never deign to make you feel like you would need to grab on to something to survive.
It's a bit of a cliche, but the Telluride feels like a tank, but tanks as far as I know don't have seven airbags.
The fuel mileage you get—26 combined mpg for the front-wheel drive version, and 24 combined mpg for the all-wheel drive version—is also decent and would've been world-beating not too long ago, if not outstanding in its class. And it comes from an engine that, I'll be honest, I expected a lot less from. Instead, the V6—which remains the same across every trim level—packs a punch, and is more than capable on the highway at speed.